E-Home >  (Ref)Compressor disassembly whole process
◆ Compressor disassembly whole process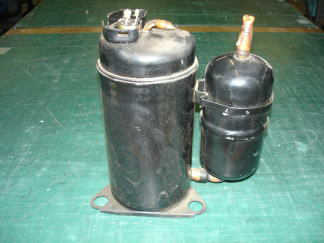 Outer Appearance of Cylinder Compressor

■This is a black motor of standard size.
 As shown in the pictures, an accumulators is welded on it.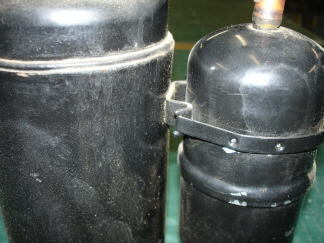 Bracket Needed to be Cut Apart

■This iron bracket is firmly attached by welding.  Our company is now developing a device that can be safely and simply used to cut the bracket apart.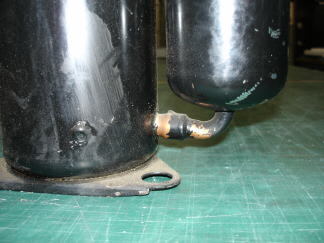 Pipe Needed to be Cut Apart

■This copper pipe is attached to the motor by brazing.  Since copper is soft, the pipe is easily cut apart compared to the bracket shown above.

■The pipe part will be easily cut apart using the cutter now under development.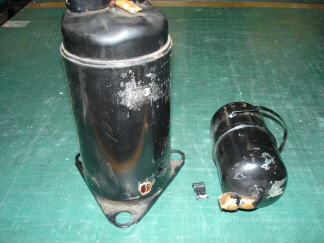 Appearance of Motor Cut and Separated

■ It is necessary to cut the bracket at as close to its fixed point as possible.
◆ Process of Cutting Cylindrical Shell into Upper and Lower Two Parts
■ Completion of the process of cutting can be automatically detected to stop the unit.
■ The cut height is different according to the type of the shell,
but the unit has a memory for optimal cutting,
function of visualization of the cut position and other useful functions.
■ Specifications, Outer Appearance and Other Information of Shell Cutter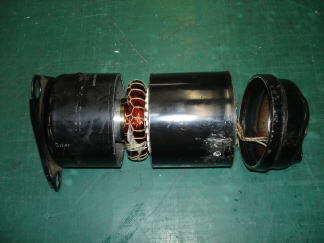 Appearance of Shell Cut Apart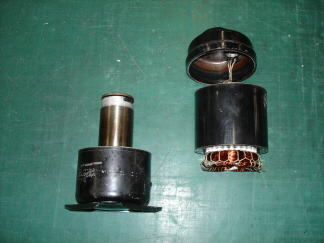 Separated Rotor and Stator
◆ Process of Longitudinally Cutting Circumference of Cylinder Including Stator


■ It is possible to separate the silicon steel sheet from the cylindrical shell and remove the sheet without any damage.
■ For the purpose of the effective recycling of resources, we have developed a device for easily separating a silicon steel sheet from s cylindrical shell.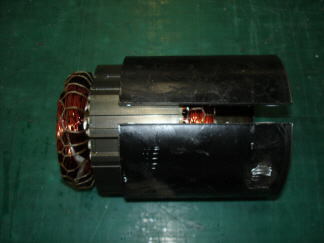 Appearance of Shell right after Cut
■Since a variety of steel sheets manufactured by different methods are used in cylindrical shells, some shells can be easily opened but others cannot during cutting.
■If a shell cannot be easily opened during cutting, it is necessary to cut halfway the other side of the shell to open it.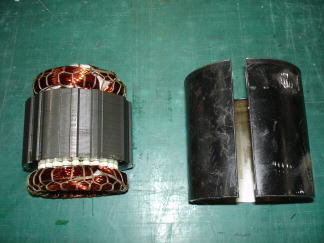 ◆ Process of Cutting Copper Coils



■ Coils can be cut perfectly.

■ The cut sections are smooth, and no cut chips are left.

■ By designing and manufacturing the rotary jig and the cutting head fit for each stator model, it is possible to cut a variety of motors of frigerators, air conditioners, washing machines, cars and other machines.

■ Specifications and Outer Appearance of Copper Coil Cutter.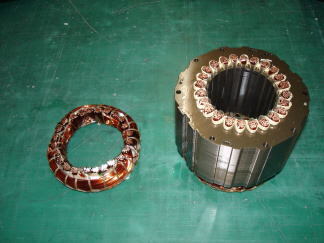 Appearance of Copper Wire Coil right after Cut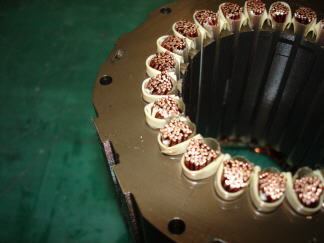 Appearance of Cut Copper Wires on Side of Stator

■Copper wires can be beautifully cut.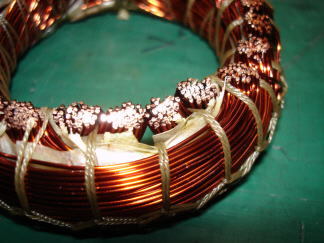 Appearance of Cut Copper Wire Coil

■A copper wire coil can be beautifully cut.
◆ Process of Drawing out Copper Wires from Coil



■Safety is ensured because the force of a spring is used for the clamping.

■The copper wires can be drawn out in a very short time.

■The process is suitable for each type of motor.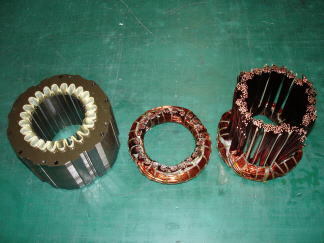 Appearance of Copper Wires right after Drawn out

■As shown in the picture, the wires can be beautifully drawn out.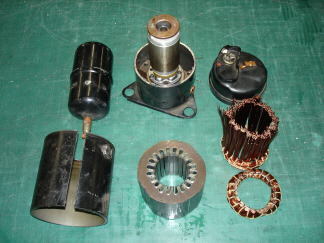 Depiction of Final Disassembly

■Disassembled rotors, bulb plates and rotary parts can be recycled in perfect condition. Burning of Coating of Copper Wire Coils  We have been manufacturing electric furnaces for many years as part of jewelry manufacturing units.